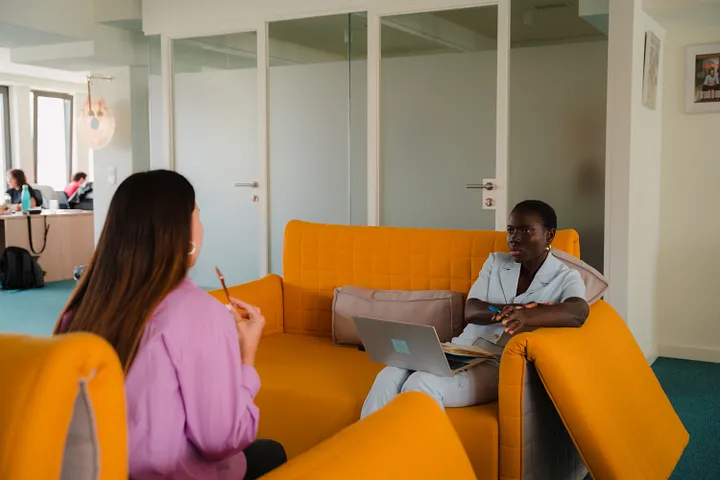 Joana Cidades
Psst… your next adventure in the world of Communication is waiting for you right here at The Square
Looking for a new beginning this September? We understand how daunting it can be to navigate the vast landscape of Communication opportunities. With so many areas of expertise to explore, finding the perfect fit can be challenging. That's where we come in. Choosing to join a thriving company with an experienced team might be just what you need to dive deeper into your field, all while taking a hands-on approach to discovering your strengths, embracing new challenges, and learning from your peers.
So, why not join The Square?
Founded in 2017, The Square has blossomed from a team of two into a formidable force of over 30 individuals, from Lisbon to Madrid. We've been busy catering to an ever-expanding arrary of companies and businesses that are shaking up the New Economy. They turn to us for our expertise in Digital Communication, Internal Comms, Content Marketing & Graphic Design, and Public Relations.
At The Square, we're dedicated, rigorous and wholeheartedly committed to bringing added value to every project we undertake. And as we continue to forge ahead, we're on the lookout for curious minds ready to explore the world alongside us. Right now, we're excited to welcome two different profiles to our team, so don't hesitate to reach out if this sounds like the perfect fit for your next professional step.
→ Social Media Manager — Corporate (B2B)
Your role:
Understanding the marketing goals, consumer behavior and brand needs across various tech and innovation sectors;
Researching these sectors and devising strategies and content plans for multiple platforms to achieve KPIs;
Crafting proposals with a focus on content storytelling and the ability to define end-to-end communication strategies;
Managing, monitoring, analyzing, and presenting results across both organic and paid channels;
Your technical profile:
A minimum of 2 years of experience in Social Media management, with a strategic outlook and expertise in client relationship management;
Degree in Publicity/Marketing/Communication/Business Management, or a related field;
Essential experience in Paid Media (Facebook Ads and LinkedIn Ads);
Fluency in English and ability to work with international clients (mandatory);
Proficiency in Microsoft Office tools;
Mastery of LinkedIn, Twitter, Instagram, Facebook, TikTok and experience with analysis and scheduling tools;
→ PR Specialist — B2B focused (Corporate, Tech & Innovation Sectors)
Your role:
Developing communication and Public Relations plans for different brands and sectors, focusing on tech and innovation, financial markets and economy;
Cultivating relationships and maintaining regular contact with The Square team, clients, partners, and media outlets;
Creating impactful content with the potential for media coverage;
Your technical profile:
At least 1 year of experience in Public Relations and Communication;
Degree in Publicity/Marketing/Communication/Business Management/Journalism, or a related field;
Essential experience in Paid Media (Facebook Ads and LinkedIn Ads);
Fluency in English or Spanish (mandatory);
Proficiency in Microsoft Office tools, especially Power Point and Word;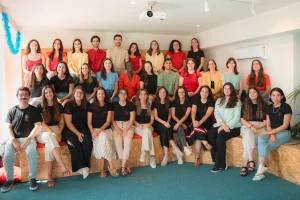 But let's be straightforward: regardless of the role you're considering, we're looking for individuals with a thirst for knowledge, a curious spirit and an unwavering desire for personal growth. This might not be the right fit unless you're:
Passionate about the communication world, staying current with market trends, and having a deep understanding of innovation sectors;
A natural storyteller with a creative flair for crafting content;
Proactive, resilient, and ready to take the initiative in a dynamic and youthful environment;
Organized and capable of performing under pressure;
Available for in-person work in Lisbon city center.
So, what's in it for you?
Aside from a job contract and compensation that matches your role, here's what you'll gain by joining our team at The Square: a comprehensive Learning & Development plan, featuring both initial and ongoing training, a hybrid working model, opportunities for career growth, a space where you can unleash your skills and ideas, and a vibrant, creative-driven team with a solid background that's already making waves in the industry.
Sound intriguing? Dive head-first into our opportunities and come chat with our team. We look forward to seeing you soon!